Mold Sickness from Toxic Mold Exposure

Mold Sickness caused by exposure to mold contaminated structures can lead to serious health conditions in human beings. Few doctors have been able to effectively treat mold exposure victims, or mold sickness with any great amount of success, due to the complexity of the exposure itself.

Mold Exposure or Mold Sickness can effect the human body in three ways:

1.

Allergic Reaction

2.

Infectious Reaction

3.

Toxicological Reaction

I.

Allergic Reaction


Allergic reactions are usually detected through IgE testing. Allergic reactions will vary in severity from person to person. Once the Mold exposure victim is removed from the contaminated environment usually they have no further complaints of mold sickness.

II.

Infectious Reaction

Infectious reactions to mold contaminated environments can be categorized into two segments:

1.

Fungal Infections

2.

Yeast Infections

Fungal Infections

Fungal infections can be localized, or they can become invasive fungal infections (IFI). Localized infections are commonly found is the following areas:
Sinuses
Lungs
Skin
Finger or toe nails
Eyes
Bowels
Yeast Infections


Yeast infections can also be localized, but can also become systemic, or found throughout the entire body.

Yeast usually localizes as an infection in the mouth or vagina. Many mold exposure victims find that these types of yeast infections are very difficult to get rid of, and are continuous. Most people exhibiting mold sickness do not associate yeast infections with mold exposure. Yeast is part of the Kingdom of Fungi and is readily available in mold contaminated environments.


III.

Toxicological Reaction

This is the factor that most doctors do not know how to deal with. This aspect of mold sickness i s an

Warning:

This Site Contains Graphic Content.

Some photos that depict actual Mold Disease, or Mold Sickness may be disturbing

News: Learn More About Mold Detoxification and the Medical Treatment for Mold Exposure

Click: "Learn More"

They will Tell you Nothing is Wrong, "It Can't Make you Sick"

Your Doctor,The Insurance Companies, Apartment Complexes, Property Management, Condominium Associations, State, Federal, County, and City Authorities, Private Employers, and "YES" even your own family, may tell you mold can't hurt you There is no such thing as "Mold Sickness".

FREE BOOK on the Health Effects of Mold Exposure

Click on the Cover for your free copy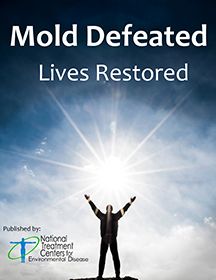 It's Time to Tell, the Truth...

When it comes to Mold and being sick, you may find no one wants to talk to you, no one wants to hear about it. You must take certain steps to help yourself for your health, your family's health and your financial well-being. And you must be careful with it all, every inch of the way.

This Website Will Help you With all of it!


Q: Is Mold Sickness Real?

A: Absolutely "YES"!
What Mold Doctors and People Exposed to Mold Do Not Know
In a Mold Contaminated Environment there are many components along with the active fungal / mold growth that will make you and you family sick. Mold Sickness has been responsible for families losing their homes, people becoming disabled and loosing their jobs, along with environmentally onset Asthma, C.O.P.D., Chronic Fatigue, memory loss, lesions on the brain, Auto-immune disease, Cancer and even death.

1.

If you think you have developed Symptoms of Mold Sickness "Get Yourself and your
family Tested as Soon as Possible!

Two dependable resources for the medical testing for Mold Sickness, Invasive fungal
infections, Mycotoxin Exposure, Beta Glucan, Exposure, and Mycobacteria infections are:


www.BioSignLabs.com (770) LAB -TEST

www.EHAPLABS.com (860) 322- 0772


www.AmericanMedicalLabs.com (855) 5THE - LAB


2. Most environmental exposures are "Co-Exposures" meaning there is usually more than
one pathogen involved in your sickness, i.e. Aflatoxin, Ochratoxin, or
Trichothecenes
.
These are all known as the secondary metabolites produced by fungal spores.
Read More
about the Misdiagnosis "MOLD". Common Misdiagnoses
Read More
about getting Medical Treatment for Mold Sickness:
Medical Treatment for Mold Sickness
Until recently the short and long term effects of Mold Sickness were hard to prove. Though many have settled claims in the Millions of Dollars based on Mold exposure, for everyone that got restitution for Mold Exposure, approximately 100,000 sick people just went away, for lack of proof. With the latest technology and medical testing for mold sickness and mold exposure in the human body the tables have turned. Mycotoxin testing, beta glucans testing, and Mycobacteria testing have narrowed the gap and have made obtaining medical damages for mold exposure and mold sickness a reality.
Whether you are looking to simply regain your health, have your possessions replaced and be relocated, or are seeking financial restitution for medical damages and negligence the proof you will need is basically all the same.
This site strives to educate the public on the facts about mold, no hype, just the real life dealings about Mold, Mold Sickness, Mold Illness and how to help yourself and direct you to those who can help you.

READ MORE:

Mold and Insurance

I have Mold What do I do Now?



Finally a Nationwide Live Help Line for Mold Problems.

To Speak to a Live Person about your Mold Problem "Click Here"